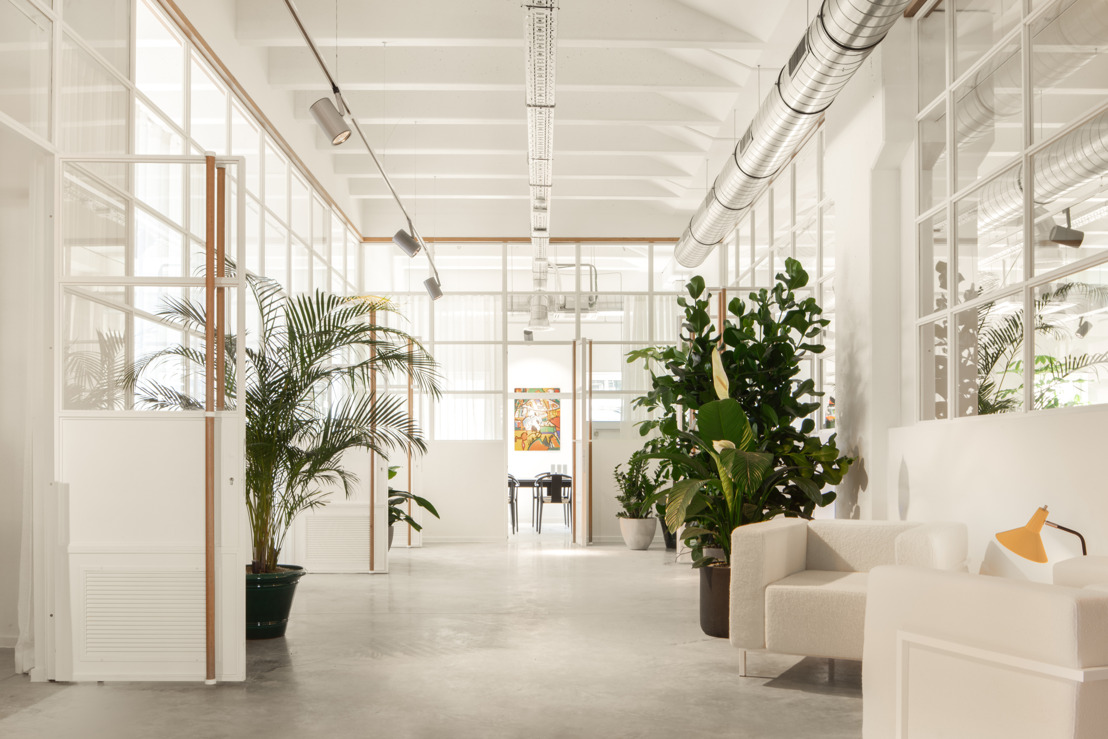 Fosbury & Sons opens 'Alfons' : a green oasis in a classic office environment
Thursday, July 25, 2019 — "Companies aren't looking for 'the office'. Today they are looking for a strong workforce, a productive team that accomplishes its mission. An office is a cure, not a goal in itself." A statement that Fosbury & Sons, a company that specializes in offering hybrid workplaces, is pursuing by opening a 3rd site and a second site in Brussels, named Alfons: 3000m2 in the industrial area of ​​Grand-Bigard. A green corner in a classic office area.
Fosbury & Sons facilitates and optimizes the work environment by completely relieving companies to increase the quality of life for all workers.
Our goal is the human. We want to make the work environment pleasant for everyone, adapted to the different tasks of a working day. We dialogue with the companies, we listen to their needs and functioning to act as an advisor. Proven is that a pleasant environment has a positive influence on the productivity and creativity of employees. (Stijn Geeraets, Co-Founder)
Grand-Bigard
After the Boitsfort venue, Fosbury & Sons chooses again for a destination outside the center of the city. Fosbury & Sons wants to offer a solution to ta majority of people and wants to provide alternatives to gray areas outside the city.
When you enter Fosbury & Sons Alfons you immediately feel the lively atmosphere of the take-away bar. It is also possible to settle in the Midori restaurant with terrace where you will find yourself in an urban jungle. Excellent accessibility thanks to its location near the main roads: ideal for people who prefer not to enter the city or those who do not want to face the ring traffic. Alfons is also a perfect meeting place to gather people from different parts of the country.
How to use Fosbury & Sons ?
Like in all venues there are 4 ways :
1) You can choose for a workspace adapted to your needs: a private office (from 1 to 100 employees and more) to a flexible membership to a visitors pass per day or half-day.
2) In addition, different meeting rooms are available with all the necessary features. These can also be rented by external companies per half-day or day. The Boardroom with views over the city and the adjacent terrace is a unique place. The lobby with restaurant can also be rented for larger events.
3) Fosbury & Sons offers a varied business / cultural program to bring together its members. A conference, a musical performance, a book presentation, a whisky tasting... an after-work agenda is proposed in each place.
4) Finally, the Midori take-away bar (formerly Coffeelabs) is open to all and lunch at the restaurant is open to non-members upon reservation.
Interior
The former warehouse on the Alfons Gossetlaan has been completely renovated by Futurn, KRAS Architects and Going East Interior Architects in the style of a workshop.
"After Harmony and Boitsfort, which are warmer and more exotic, we opted for the simplicity of white with green accents," says Going East architects.
White steel windows blend with oak for a light yet warm look. The frequent use of glass walls allows a beautiful 360 ° view to all members. A rooftop floor with a luxurious meeting room called "Boardroom" with terrace can be rented separately.
Fosbury & Sons has chosen to integrate many handmade furniture created by Going East in combination with unique design and / or vintage objects from Atelier Van Lieshout, Valerie Objects, Nor11, Vitra and Rub.
Going East likes to experiment; the technique used on the wooden tables was developed especially for the place. Alfons will also be offering artistic collaborations with: Rodolphe Janssen Gallery, The Artgency and Antwerp's Louise Mertens.
Regular partners Samsung, Sennheiser, Stella Maris, Lannoo, Luster and Café Costume complete the experience.
_____

In October a third Brussels site will open on King Albert II Boulevard, next to the Nord trainstation. Moreover the first international location in Amsterdam is known; Fosbury & Sons will be housed in an impressive building on Prinsengracht, a former hospital in the heart of the city with views of the city and a unique garden. More info will follow very soon.
_____
Fosbury & Sons Alfons
Alfons Gossetlaan 40
Groot-Bijgaarden
_____